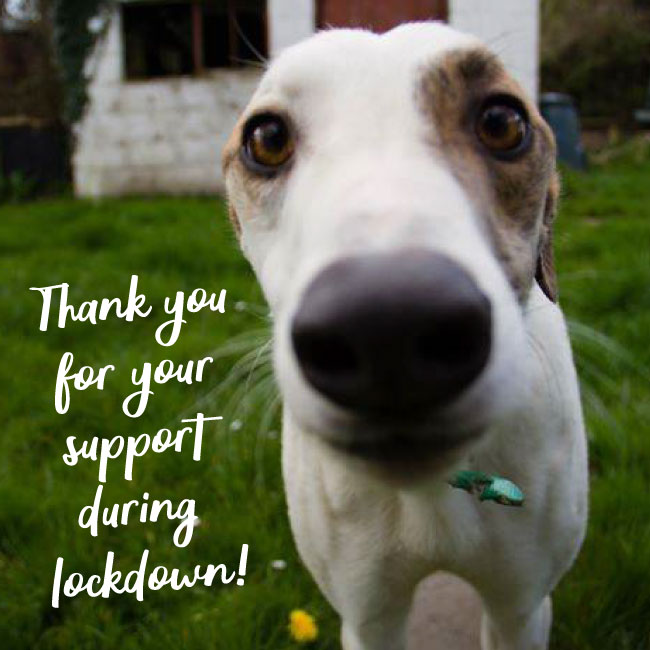 **Covid-19 Notice**
Due to Covid-19, we've had to make some changes to our policies and procedures regarding greyhound adoption. After almost 20 years in operation, we know that it is crucial to carefully assess each home offer to have the best chance of making a successful match between a dog and their new family. While we cannot carry out home check visits currently, we will be arranging to video call with potential adopters to view their home and yard, and discuss their specific situation, as well as going for a socially distanced walk in their neighbourhood. We take great care in conducting a bespoke matching process between adopters and the dogs waiting for homes. We offer support that consists of pre-adoption information and post-adoption mentoring to facilitate a smooth transition from being working dogs to becoming loved pets. It takes time to complete this process with our small team of volunteers, especially in the current limiting circumstances, so please bear with us as we try to answer all queries.
At this time, we are unable to adopt greyhounds into any home with a child under the age of six years. Due to Covid-19 restrictions, we now conduct video homechecks as part of our assessment procedure of potential adoptive homes. For families with young children, observing their reactions with a greyhound prior to adoption is critical for HUG, but at the moment it is not possible. Furthermore, at present we do not have any foster homes with children in residence which would enable us to gauge the reaction and body language of the dog while regularly interacting with children. As such, we are unable to facilitate such adoptions.
We are also unable to home greyhounds to households with cats or other small animals at this time.
Please keep an eye on our social media as we may be able to amend these policies in the future once the situation changes.
Thank you for your ongoing support.
The HUG team
---
Please Note: HUG only adopts dogs into homes where the dog will live as part of the family, which means sleeping indoors at night and not being left outdoors for prolonged periods without supervision. If your schedule involves a work day away from home for a duration of more than 5 hours, we ask that you consider how you might plan to provide a toilet and interaction break for the dog during this time, such as with a visit from a friend, neighbour or dog walker, or potentially a dog daycare situation.

Please complete all fields below.