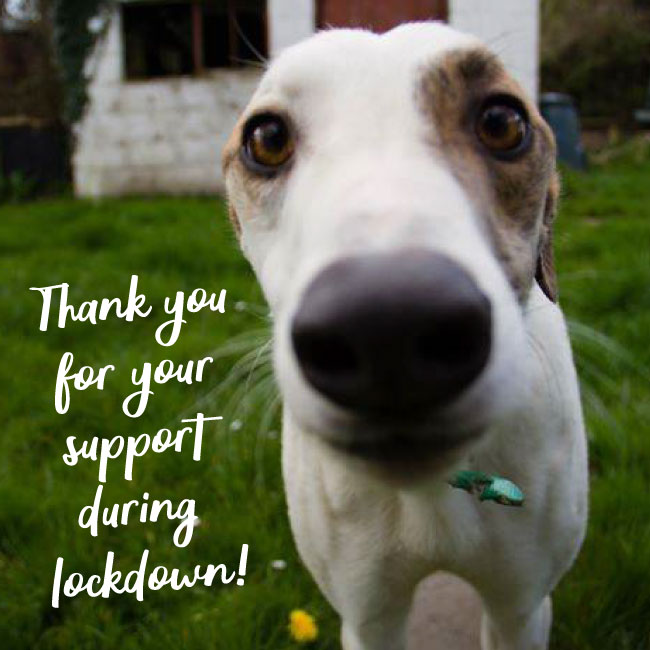 **Covid-19 Notice**
With the Government's move to the next phase of the re-opening from COVID-19 restrictions, HUG will begin our homing activities the week of June 8th 2020, taking into account increased measures for hygiene and social distancing. We are also somewhat limited by travel distance regulations so can only carry out home checks in Counties with current volunteers. We have received well over 100 adoption or foster applications over the lockdown period, which shows a very positive increase in the interest in greyhounds as pets in Ireland! Please bear with us as we work through the applications and begin matching up dogs into homes, we have only a small team of volunteers and it is vital to still carry out our thorough homing procedures to ensure that each adoption is successful. When a volunteer contacts you to arrange a home check visit, please ensure to disclose if there are any health concerns, or if a member of the family or household is immune compromised in any fashion, so we can take adequate precautions. Thank you for your continued support and we look forward to seeing many happy hounds on forever sofas in the coming months!
Please Note: HUG only adopts dogs into homes where the dog will live as part of the family, which means sleeping indoors at night and not being left outdoors for prolonged periods without supervision.
This form is only for adoptions in Ireland. If you are outside of Ireland, please view our list of international adoption partners here.
All fields marked with an * asterisk are mandatory.