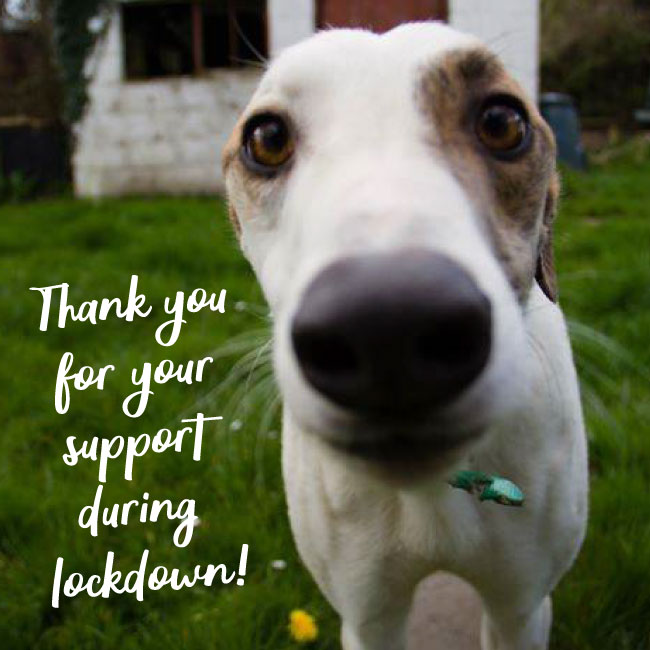 **Covid-19 Notice**
After 20 years in operation, we know that it is crucial to carefully assess each home offer to have the best chance of making a successful match between a dog and their new family. Due to ongoing safety precautions for Covid-19, we are conducting home checks as a video call to view your home and yard, and discuss your specific situation. We take great care in the conducting a bespoke matching process between adopters and the dogs waiting for homes. We offer support that consists of pre-adoption information and post-adoption mentoring to facilitate a smooth transition from being working dogs to becoming loved pets. It takes time to complete this process with our small team of volunteers, especially in the current limiting circumstances, so please bear with us as we try to answer all queries.
Thank you for your ongoing support.
The HUG team
---
Available for adoption in Ireland
With a huge number of greyhounds bred in Ireland every year, we receive constant requests to take dogs directly from owners and trainers. Due to our list of current dogs changing regularly, all of our available dogs can be viewed on our facebook page.
www.facebook.com/HomesForUnwantedGreyhounds
In addition to the dogs on our facebook page we also have a waiting list of dogs due to come in. So, if you don't see a suitable dog for you, it's always worth contacting us to see if a suitable hound might be coming in soon.
All of our dogs are neutered (except pups which are too young, then adopters need to agree to have this done), vaccinated and microchipped.
A homecheck and adoption fee will apply for all greyhounds.
If you live on the Island of Ireland, please click here to complete our online adoption application form.
Outside Ireland
We currently do not re-home dogs to homes outside the island of Ireland. Please contact one of the rescues below depending where you live.